Enjoy Fishing in the Platte Area
Lake Francis Case on the Missouri River is an excellent year round fishery not limited to just spring and summer. In fact some of the finest fishing and least pressure is in the fall and winter. As the air and water temperatures cool in the fall, the walleyes return to the shallows. With the many colors of the turning foliage and the crisp fall air, a September-October fishing trip may be the most enjoyable fishing you may ever experience.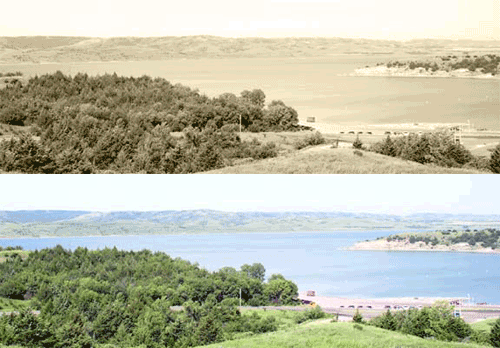 Hey "grumpy old men" don't have to go to Minnesota to ice fish! One of the best kept secrets is the winter fishing experiences available both on the Missouri River and the area ponds and lakes. There just isn't much better eating than those fish caught in the crystal clear cold water of winter. Surprisingly, some of our nicest days are found in January and February when the humidity levels and wind speeds are low. Prairie Skies is the perfect place to base those fishing trips from, especially with our ample parking, electrical hook ups, hot tub, and fireplace.
Fish species available in the Platte area are walleye, sauger, northern pike, catfish, white bass, crappie, yellow perch, smallmouth bass, largemouth bass, bluegills, carp, and bullheads. Rainbow and brown trout are available below the Fort Randall Dam at Pickstown (about 30 miles from Platte). Click here for a breakdown of the fish species in Lake Francis Case. Boat launching is available at the Snake Creek, Platte Creek, and North Wheeler Recreation Areas.
For information about fishing regulations contact the South Dakota Game Fish and Parks.
Below are some of the more prominent fish species in the area.
Walleye

Small Mouth Bass

White Bass

Catfish