Memorable Hunts in Memorable Surroundings!
Our goal at Prairie Skies is to provide quality, wild, game bird hunting in a natural setting. We are not a "shooting" preserve but rather a "habitat preserve" where we strive to provide optimum habitat for natural production at all phases including: breeding, hatching, brooding, hunting and climate survival. Therefore, our hunts are limited instead of hunting every day of the season to give the birds a rest. All hunts are based on bag limits and dates within those set by the state of South Dakota.
By limiting the hunt days and limiting numbers of persons in a party to 6-8 persons, we feel that all those that come may have the opportunity to enjoy the best that is available at the time of their stay.
All hunts are with an experienced, non-shooting guide. Limits are not guaranteed. We believe that this is not the most accurate way to measure success, but rather upon the reasonable opportunity to harvest your limit. As an added bonus, we have introduced bobwhite quail for variety.
Please contact us soon, as dates are limited and on a first-come basis.
Note: We also have lodging available "in between" booked hunting dates for those that have other places to hunt. Click here to view open dates. Call for rates.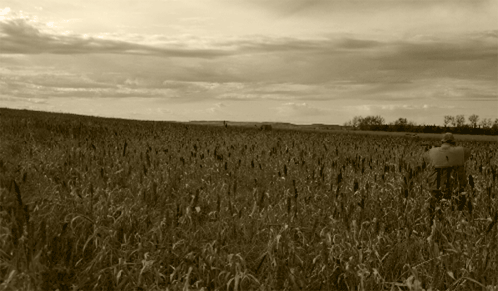 Our emphasis on habitat and managed hunting, with rest periods between hunts, at Prairie Skies is something we pride ourselves in doing to attract and hold an excellent population of birds and other wildlife. All the 1-3 day guided hunts are within the seasons and and limits established by the state of South Dakota.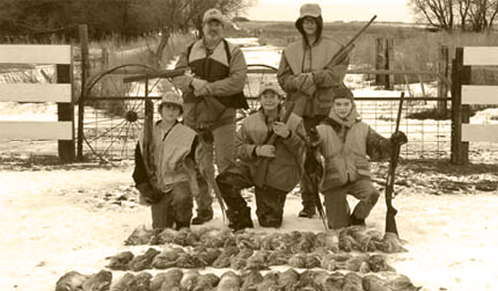 Our late season hunting offers some of the best cottontail hunting in the country. Bring the kids out during their holiday break, and they will have the time of their lives. These guys managed to bag their limit of fifty bunnies during a morning hunt.
Information.
We can provide for all your hunting needs including: meals, field transportation, and game preparation.
2010 HUNTING PACKAGE RATES *

Rates subject to 5% state sales tax.
A non-refundable deposit of $50/per person is required to hold hunting dates.
Contact us regarding current rates at:
Prairie Skies Country Inn
26949 360th Ave.
Platte, SD 57369
Phone -
605-337-3764
Fax -
605-337-2614
E-mail -
travisag@midstatesd.net
All licensing fees are the obligation of each hunter. Licenses may be purchased at many of our fine businesses in Platte SD or you may purchase on line at
South Dakota Game Fish and Parks.